Valentine's Day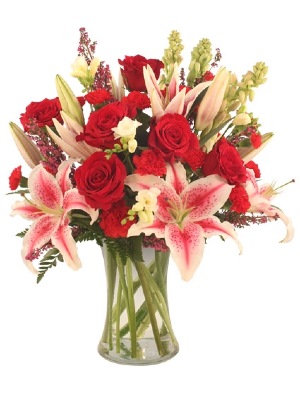 Glamorous
Bouquet
Be the first to say "I Love You." Surprise your sweetheart by sending her a Glamorous Bouquet of Stargazer lilies, red roses, red mini carnations, white freesia and white tuberoses. Order flowers online day or night or call HEATHER'S WAY FLOWERS & PLANTS to send flowers to the one you love the most.
Come see us at our new location.
2929 S. Caraway Suite 5 and the Brown's Lane Access Road.
(beside the old Honda and across from the Original Holiday Inn.)
Valentine's Deliveries are as such;
We will have businesses delivered by 5pm. We are not responsible should the recipient leave work early. Please tell us if this order needs to be delivered earlier, although there are no guarantees.
All orders placed by the 13th to schools, will be on the first deliveries. So, orders placed on Valentine's Day will be later in the day.
Students in most schools cannot receive items, or only those who ride in cars. Due to the confusion or transportation of students, we will not deliver to students unless it is fine for bus or car riders alike. Teachers in some schools are also under these same rules. We have a current list that I have personally called for this information.
Homes will be delivered ONLY if someone answers the phone when we call to verify they are home. That order will go out with the next delivery personnel going in the area. We do not leave items outside or on porches. We require a signature to ensure that your item was in perfect shape when delivered. Also, we HAVE to call to verify someone is home BEFORE a delivery is attempted. This saves time, gas and possibly the items being damaged due to temperature, theft or other things outside our hands.
Most of our Delivery Personnel are Temporary Workers for Valentine's Day, so please be patient. They are working very hard. Should you find the item you received was damaged please call us IMMEDIATELY or within 6 hours of delivery to 870-802-4299. We will work on fixing the issue.
Delivery Confirmations will go out, but not exactly when they come in. Due to the overwhelming amount of deliveries, getting them to their destination will be our top priority. When time allows, delivery confirmations will be completed. Please don't call us to ask. Should we have a question or an issue arises we will call you.
Thanks for your understanding!
Heather McMinn- Owner and FTD Master Designer and Texas Master Florist
Heather's Way Flowers and Plants